Book a Field Trip for your School, Church, Family or Large Group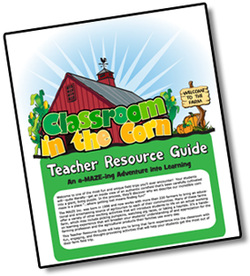 Our MAiZE offers field trips in an effort to provide a unique, fun, educational activity that exposes children to "agriculture in the process."
Hands-on learning experiences are always best when students have been prepared for what they are about to encounter and are able to then discuss what they learned afterwards. We are pleased to offer our
Classroom in the Corn
learning series to make your field trip more exciting and memorable ... as well as a better learning experience.
These Teacher Resource Guides are broken into separate grade ranges and each include: activity goals, National Curriculum Standards, preparation required, materials needed, worksheets, and step-by-step instructions.
Click here to DOWNLOAD THE CURRICULUM MATERIALS
(password will be required to download - please request from the farm you will be visiting)
If you would like to take your class through a MAiZE this fall and receive a password to download the complete Teacher's Resource Guide, please contact us for specific details.

Green Acres Corn Maze field trips include a trip through the maze, the air pillow, a tour through our barn of animals, a short video about our maze, pedal carts, as well as a place to eat lunch if needed. Lunch is not provided, but you are welcome to bring it with you. Your class/group will be talking about their field trip to our maze all year!

We have lowered our field trip prices to help our community through this time of a relaxed economy. Field trip prices are $4.00 for every one three and older. Two and under are free.
You are welcome to bring as many chaperones as you like. One chaperone per 12 children receive free admission.

We honor the needs of the school district's transportation departments and therefore can not allow field trips to run longer than scheduled. Buses need to stay on their schedule and must leave the corn maze no later than 2:00 PM.

If you would like to schedule a field trip, please send us an email or give us a call with your request for a date and time. Also include the number of visitors in your group and contact information. We will get back to you right away to book your group for a visit!

Please contact us at greenacrescornmaze@wyoming.com or call us at 307-797-8796 to set up a field trip of fun! Thanks!
---